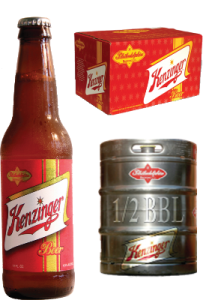 By: Billy BeerSlugger
I haven't posted a beer in awhile and I want to get back to that. I have had Kenzinger a bunch of times and it doesn't really disappoint. It's made by the Philadelphia Brewing Company and they do make some very tasty beers. I was drinking Kenzinger last night though so I'll give it a shout out.
It's a pilsner and I find it to be a little heavier than other people think it is. It is 4.5% alcohol by volume but I find myself pretty buzzed off of 4 or 5 of these bad bears.  It is made with German malts and American hops to give it a very distinct taste.
My only problem with the Philadelphia Brewing co. is that their cases seem to be a little on the pricey side. Even though it's made about a mile or two away from my house and there's little transportation involved the cases still range upwards of $27 in most places. I don't mind paying for quality but I would drink it a lot more if a case was on the low side of the 20's.
Either way it's a pretty easy drinking beer that happens to light me up fast. If you're in the Philadelphia area their website has a Google map of beer distributors that carry their products. Cheers.