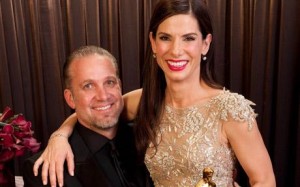 By: Billy BeerSlugger
Why is anyone really surprised that this badass biker dude with tons of tatoos and used to be married to a Porn Star cheated on Sandra Bullock? Seriously? I know women are all up in arms about this but given the situation was anyone really taken aback by this infidelity revelation?  Let me go back a sentence and repeat the whole fact that he was married to and has a child with porn star Janine Lindemulder.
So dude goes from being married to an award winning Porn Star and probably being used to some pretty crazy shit in terms of the relationship to being married to Sandra Bullock, award winning movie star who is probably a lot less sexually adventurous.  Then James goes outside of the marriage to get some fetish sex or whatever he's into and everyone's like, "oh my God, how could you cheat on Sandra Bullock".  No one saw this coming? Really? Seriously? You poor naive general public.
It is fascinating to me that this is such a huge news story. Jesse James has seen such a media backlash (somewhat rightfully so) but who's really at fault here? Probably Jesse James for lying about wanting to be in a monogamous relationship (if that was even an agreement) or Sandra Bullock for marrying a guy who's best known for making custom motorcycles, being a bodyguard for heavy metal bands and being married to a popular late 90's porn star?
Just let that marinate for a little bit. I'm not saying that it's right to cheat but couldn't this situation have been avoided altogether if both people had exercised a little logical thinking?
BTW: Shocker this story comes out after right after Bullock wins an oscar. Nothing like a bitch using her body to make money, then make even more money by releasing the story about using her body to make money. It's a disgrace to honest, hard working strippers and hookers everywhere.