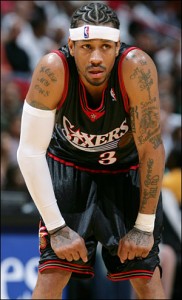 Sports with Bob McFlurry
So the Answer is coming back to Philadelphia.  When I wrote the Iverson article last week I didn't really think the Sixers would ever re-sign him given the acrimonious split in late 2006.  It's the kind of homecoming you hope for as a true Philadelphia sports fan.  The situation reminds me of how Jeremiah Trotter and Hugh Douglas came back for the Eagles Super Bowl run in 2004. Hopefully Iverson is more Trotter than Douglas in terms of production.
It's kind of bittersweet though in that I'm not really sure the addition of Iverson puts the Sixers in any real contention to win the Eastern Conference but stranger things have happened.  At this point, with Speights and Lou Williams gone for an extended period it can only help more than hurt.
So I'm not a real big sports radio listener and I choose not to listen to it especially when a big headline will dominate the airwaves for the next couple days as in Iverson, Vick etc. However, with the verbal jabs I've heard from colleagues and commentators about what kind of player and of what caliber person they perceive Iverson to be I do get somewhat miffed.
1) Iverson is not a team player:
Well if you hear any of his teammates talk about Allen Iverson I have never heard anything bad come out of anyone's mouth.  Yes he clashed with coaches, yes he missed practice, yes he got into some situations which weren't exactly kosher but if you think he had anything on his mind but winning when he's on the court then you're crazy.  If not being a team player is taking all the shots then I'll refer you to the bullet point below.
2) Iverson the Ball Hog:
For much of Iverson's Philly career the plan from Larry Brown was for Allen to take most of the shots.  Dart to the rim and get fouled. Allen takes the shots, they live on the foul line and the rest of the team plays great defense while allowing Iverson to expend his energy on the offensive end.  Who was going to take the shots? Eric Snow?
We never got him a complementary player, maybe because he didn't want to share the scoring or any marquee player was afraid he wasn't going to give up the ball but during his years in Philadelphia I ask you, who would you rather have shoot the ball?
3) He's not a winner:
It's true, Allen Iverson couldn't win it by himself.  It's also true he didn't have a whole lot of help. Everyone slurps Jordan but he had players Iverson never had.  The Answer never had a Scottie Pippen.  Iverson only played concurrently with two All Stars, Theo Ratliff the year he got hurt and Dikembe Mutumbo, neither of which were known for scoring.
For every team that worked out a great trade or drafted a player that helped win a Championship, Iverson was given has been's and never will be's.  Chris Webber, Tyrone Hill, Jumaine Jones, Tim Thomas, Derrick Coleman, Larry Hughes, Toni Kukoc, Kieth Van Horne, Matt Harpring. Webber was playing on one leg and we paid him 36 million to not play, Coleman would have been a great 3rd option, Kukoc was 25 lbs overweight by the time he got to Philly and every guy we drafted we traded away or didn't make an impact.
Granted it's hard for a rookie to grow in a system predicated on getting the star player 30 shots a game but does anyone think if we got a legit second scoring option and still had the defensive players in place that Iverson wouldn't go deep in the playoffs every year? (note: the unsung hero of the 2001 season in George Lynch who was never the same player after breaking his foot in the playoffs that year).
So we have Iverson back, if he scores 19 or 90 it's good for the city, good for attendance and good for the fans who love the guy.  You can make insinuations about why they brought him back or that he takes time away from the young guys but the young guys aren't exactly doing much right now.
If anything I hope the guy (and he does) realizes what a special place he has in this city and how coming back for his farewell tour is the kind of reunion only seen in Hollywood movies. To bring it all back where it started, to cap off a Hall of Fame career in front of the fans that made him a household name is something that most Philadelphia Superstars either never wanted to or never could do.  (Besides Dick Allen).
At the very least, I'm interested in Sixers Basketball again if only just to see one of it's greatest players make one more playoff push.  It should be interesting.