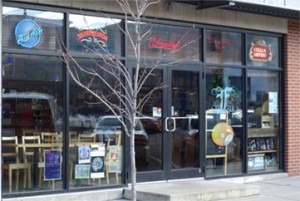 By: Billy BeerSlugger
The Foodery is really a beer store that also has a deli. Though when I say beer store, we're talking about six packs and more so singles of the best beer you can find in Philly. There's 10 or so coolers that have some of the finest imported beer from Belgium, Germany, England and anywhere else that makes stuff worth drinking.
You can sit down and have a beer and a sandwich there, it's not a bar but they will give you glassware.  And I believe it's open until 10pm which is crucial for those for a halftime beer run on a Monday Night Football game or a Tuesday night when you've just had a really bad day.
So overall, one of the best selections of beer I've ever seen in one place. The bad part is that most of the single beers there run $4.50+.  Yes imported beer is a little more expensive but it's more or less a 300% markup for single beers. I walked out of there with a $20 dollar sixpack last week. If I was smart I would have went to the beer store earlier in the day and had at least 18 more beers but such is life sometimes.
Overall though you can't really knock the price given the selection and trendy 2nd street location in Northern liberties. Maybe the City has a tax on single beer?
Another great thing is that I didn't see any Budweiser or Coors there. Kudos to you friends. Viva le Beer!
837 north 2nd street (2nd & poplar)
(215) 238-6077
philadelphia, pennsylvania 19123
hours: sun-thurs 10:00am to 10:00pm
fri-sat 10:00am to 12:00am
They also have a location at:
324 south 10th street (10th & pine)
(215) 928-1111
philadelphia, pennsylvania 19107
hours: everyday 9:00am to 12:00am
I wish I had frequented that establishment a little more when I was living near Broad and Spruce St.