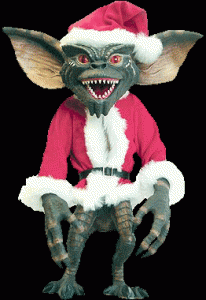 By: Billy BeerSlugger
The essential list of Christmas/Holiday movies for your holiday season per myself. I left off animated features so don't be mad that Polar Express or Charlie Brown's Christmas Special isn't on here.
10) Gremlins: A black comedy based at Christmas time, it features a a cute as can be Mogwai named Gizmo that  spawns mutated versions of itself when it comes in contact with water and they wreak havoc on a small town during the holiday. Director Joe Dante also directed Innerspace and The Burbs. Little known fact is that Howie Mandel did the voice of Gizmo.
9) Elf: I'm not particularly a big fan of this movie but it does have it's funny moments and one liners.  I guess I hoped it was a little more dark or had some more adult humor in it being that it was Will Ferrel's next movie after Old Shool. Mary Steenburgen has been the mom in every movie since Clifford.
8 ) Trading Places: This movie you may not really think of as a Christmas Movie per se but it was shot pretty much entirely in Philadelphia which basically put it over the edge for me. Eddie Murphy and Dan Ackroyd change work and socioeconomic backgrounds on a bet from their bosses. Murray and Ackroyd get even in the end but not without a bunch of humorous scenes, a view of early 1980's Philadelphia and a completely gratuitous and non-essential shot of Jamie Lee Curtis' breasts.
7) Bad Santa: Billy Bob Thorton is a safe cracker and his dwarf partner Marcus are mall thief's extraordinaire.  They use Billy Bob as a alcoholic Santa and his Marcus as an elf for cover. Billy Bob drinks, womanizes and commandeers husky Thurman Murmon's house. There are too many one-liners in this movie to leave it off the list.
6) Home Alone: I remember having to get this movie the day it came out it was that big of a deal when I was a kid.  The plot revolves around Macaulay Culkin being left at home during a family trip and dealing with "Wet Bandits" Daniel Stern and Joe Pesci.  Lot of physical humor in this as you know and nothing gets kids laughing like people getting kicked in the nuts or falling down.It's what has kept America's Funniest Home Video's in business for 20 years now.
5) A Christmas Story: many will argue that this should be higher on the list but a couple years ago TNT or TBS ran it on repeat for 24 hours which I subsequently watched the movie twice during the day, when I went to bed and when I woke up the next day and now want to never see the movie again. The Trailer Here!
4) Scrooged: An updated, comedic Scrooge yarn with Bill Murray in one of his best roles as an asshole TV Executive who is visited by three ghosts and eventually sees the error of his ways.
3) Die Hard: Bruce Willis starts the franchise off with a bang in this 1988 blockbuster which redefined action movies. Set on Christmas Eve, John McClain must save his wife and coworkers from terrorists who hold them hostage at a company Holiday party in a Los Angeles skyscraper. Check out the condense version here!
2) National Lampoons Christmas Vacation: "Shitters' full!". One of the classic Christmas Movies from the late 80's which has Chevy Chase reprising his role as Clack W. Griswold this time seeking to have his extended family over for the perfect Christmas turns into anything but. This is one of the few movies I can watch over and over. SQUIRRELLL!!!!!!!!!! Check out the trailer HERE!
1) It's a Wonderful Life: I can't go through the Holiday's without watching this movie.  Released in 1946, Frank Capra's drama staring Jimmy Stewart and Donna Reed speaks to the human spirit, hope and the power of family/friends.  It brings us back to a simpler time in America and the protagonist learns all is not lost when even when it seems. If you're looking for a feel good, uplifting Christmas movie this is it even if it's a tad too long.
Others receiving consideration: The Ref, Miracle on 34th St., The Nightmare Before Christmas.