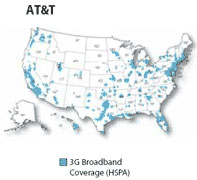 By: Billy BeerSlugger
With the recent ad campaign from Verizon showing 3G coverage on the United States map for both AT&T and itself, it's weird that I am now seeing ads from AT&T with Luke Wilson in them telling me this isn't true.  I've seen this type of competitive advertising this year before with Direct TV and Comcast stating who had more HD Channels or Programming.  What is a consumer to think when two direct competitors are spewing two almost completely different stories and passing them off as gospel to the American Public?
First, let's read between the lines.  Verizon's ad displays a map of "3G Broadband" coverage for both itself and AT&T. That being said, the maps are correct.  Verizon's network is immensely greater in terms of 3G coverage and AT&T can't really dispute the 3G coverage on their map. The thing that AT&T should dispute is that the ad makes it seem like they do not offer or can't get service in those areas. While Verizon's network is far beyond AT&T's in terms of 3G service, it does not mean AT&T users cannot  make calls in those areas and in most cases can still access the Web (granted not in 3G speed).  Basically, if you can make a phone call you can still check your email though streaming video is probably out of the question.
Chalk one up in the W column for the advertising people at Verizon for stealthily taking one fact about one aspect of their competitors services and having a good portion of the general public associate the 3G coverage map with the entire AT&T wireless network.
Don't think that this is just an AT&T vs. Verizon matter either. There are two very prominent names attached to these cellular carriers in Google and Apple.  With Google coming out recently with it's Android OS on every major carrier except AT&T and Apple having an exclusive licensing deal with AT&T for the iPhone, it's more than just about the carriers. AT&T apparently made 1/3 of it's 2nd Quarter revenue off of iPhone users and that's something that Verizon and Google hope to accomplish with their partnership.
Luckily I'm off all this week and could figure all of this out for you. Unfortunately neither Verizon or AT&T subscribers can get 3G coverage in the middle of Lake Huron.