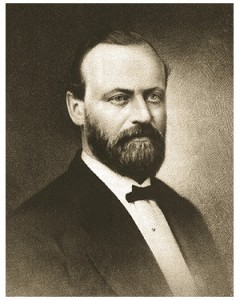 By: Billy BeerSlugger
There is a common theme among our Fathers of American Beer so far and Joseph Schlitz is not likely to stray from that theme too much. Schlitz was a native of Mainz, Germany and emigrated to the United States in 1850 settling in Milwaukee.  Schlitz was hired as a bookkeeper  by August Krug.  In 1856 he took over management of the brewery after Krug's death and two years later married Krug's widow, Anna Maria.  Eventually Schlitz changed the name of the company to Joseph Schlitz Brewing Co.
So in keeping with the traditions of the Founding Fathers of American Beer, Schlitz was born in Germany, emigrated to the U.S. and married into the family of an established brewer.
The company began to succeed after the Great Chicago Fire of 1871, when Schlitz donated thousands of barrels of beer to that city, which had lost most of its breweries.  Many of Chicago's breweries that had burned were never to reopen; Schlitz established a distribution point there and acquired a large portion of the Chicago market.
Schlitz died May 7, 1875, when on a return visit to Germany; his ship hit a rock near Land's End, Cornwall, and sank though his body was never recovered.  After his wife died the company stayed in the hands of Krug's heirs.
The Schlitz brewing company flourished for most of the 1900's and in 1902 Schlitz surpassed the 1 million barrel mark and thus earning the title of World's Largest Brewery taking it from fellow American brewery Pabst.  It would continually be one of America's top breweries for the next 70 years until an alteration in production methods to meet demand while also cutting costs changed the taste of the beer.
A once proud bran was thereafter relegated to cheap beer status and eventually fell out of favor with the working class.  The company was sold in 1982 to Stroh's after a brewery strike and continually falling sales left Schlitz in a financial mess.
"The Beer That Made Milwaukee Famous" is now brewed in small quantities by Pabst Brewing Co. which effectively means that it is physically brewed by either Lion or Miller Brewing companies since Pabst does not actually brew any beer.
I particularly liked getting Schlitz-faced in my early years.  Always found the beer to be O.K. as far as value buys go and I'm glad to see it making somewhat of a resurgence.