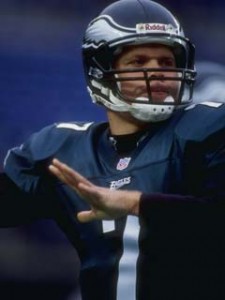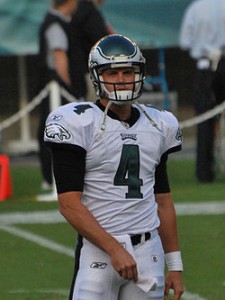 Bob McFlurry with Sports
I've been saying for awhile now that I'm not sold on Kevin Kolb as the answer at QB in Philadelphia.  The situation reminds me of 1997 when Bobby Hoying was anointed the savior of the Eagles franchise. Hoying was a second year Quarterback who took over for Ty Detmer who had taken over for Rodney Peete that year. Hoying threw for over 300 yards in a start against the Bengals which the Eagles won 44-42 in a shootout against Boomer Esiason.  I can remember the newspaper headlines the next day in which the media put the weight of the city on Hoying's shoulders.
The Kevin Kolb situation is eerily familiar to the Hoying situation. Both QB's were essentially over-hyped following 300 yard passing games. Kolb had two in a row but only one one to show for it. However, before Kolb took over for an injured Donovan McNabb in 2009 he had not throw for a touchdown. Well technically he had throw at least one touchdown, it just happened to be to the other team in Ed Reed's NFL record 108 yard interception return. Before 2009 Kevin Kolb had a TD-INT ratio of 0-4 and at the end of the 2009 season he sat at 4-7.
The Kolb / Hoying comparisons go a little further than that:
Both players are listed to be 6'3″.
Hoying is the principal owner of a Real Estate Agency in Columbus Ohio
Kolb majored in Business Entrepreneurship at Houston.
Completion %: Hoying 64%, Kolb 68%
TD-INT: Kolb 4-7, Hoying 11-15
Maybe that's where they stop but if Kevin Kolb doesn't produce a sizable playoff run in his first two years he may go the way of Bobby Hoying and be shipped out of town. Only time will tell.