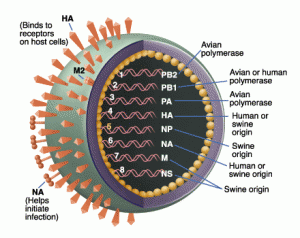 By: Billy BeerSlugger
Oh, you thought that shit was dead? Think again.  This H1N1 Flu strain is here to stay people and the media is going to whore the shit out of it to keep you watching and reading the news. Apparently half of the United States is going to have it at some point this cold and flu season. Teachers are told to take extra precautions in cleaning and kids hand sanitizing. I'm sure you'll see a newscast about "What You Can Do To Avoid Swine Flu" and or the effects of Swine Flu when you do get it because… IT'S INEVITABLE!!!!!
The CDC gives out weekly updates and I can't go a day without seeing H1N1 on my iGoogle page with my newsfeeds. Don't say I didn't warn you because this thing is going to make a comeback bigger than Robert Downey Jr.'s. Be prepared to be scared and please by all means believe everything you hear on the news! Those fuckers are infallible.