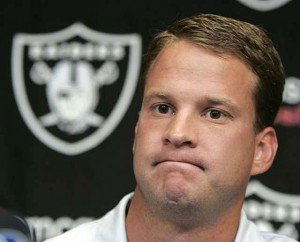 Sports with Bob McFlurry
I don't see what the big deal is with Lane Kiffin and why he's a head football coach or was even considered for a head football coaching job. Yes he had some success as an assistant at USC in the mid 2000's, more a product of the elite players the school collected than coaching in my mind. Yes Lane Kiffin took over recruiting for USC in 2005 but only after the program had restored itself as a national powerhouse. How hard is it to recruit players to a program that won a national championship the year before and finished in the top 2 or 3 in the years previous? It's a sales job that I'm sure the Sham-Wow guy could do.
I'm not hating on Lane Kiffin as an assistant or a recruiter, I'm hating on Lane Kiffin as an arrogant son of a bitch. I'm hating on Lane Kiffin because he went 5-15 in the NFL and was miraculously given the head coaching job at Tennessee. I'm hating on Lane Kiffin because after he went 7-6 with a Bowl loss in 2009 he was magically given an even more high profile head coaching job back at USC after Pete Carroll left. So after a career head coaching record of 12 and 21 he somehow gets rewarded for not getting the job done. It's the kind of promotions you'll see in the government not in football.
One thing I do understand about the allure of Lane Kiffin is that he comes with his father Monte to run the defense. Monte Kiffin who is essentially the architect of the Tampa-2 defense that had the Buccaneers as one of the most dominant defenses in the NFL for 10 years or so.  I guess that really figures into the hiring process when you have your legend of a father in there with you at the interview.
He was lucky to get the Tennessee job, a job he kept for a year before moving to USC and inciting a riot on campus Knoxville. Now he's being brought back to USC where he coached the player that got the University suspended from post-season play for the next two years. Not that it really matters. Judging by his coaching record I don't think USC had a chance at a BCS game so the only thing USC loses out on is cash from the "INSERT SPONSOR HERE" Bowl. One thing is for sure though, Lane Kiffin is a hell of a salesman. Somehow he got 3 teams to buy his bullshit as a head coach.