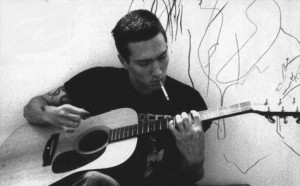 By: Robby Ripchord
Heard some news recently that John Frusciante, the unsung hero of The Red Hot Chili Peppers has left the band to pursue other musical avenues, including his own solo career. This comes to me as sort of bittersweet because as much as I love Frusciante's solo stuff I had hoped he would continue to at least record one last album with RHCP. I have been waiting since 2006 for the Peppers to come out with another album and with their extended hiatus now about a year old, it looks like John won't be a major creative and innovative force for RHCP as he has been in the past.
All is not lost though, John has produced 10 solo albums, most of which have seen a heavy rotation in my MP3 player. He's quietly put together some of the more creatively simplistic songs I've heard since Cat Stevens. Some albums in my opinion are better than others, Shadows Collide with People is arguably his best compilation and is closest to his RHCP guitar persona/style. Then John goes through various approaches to albums and concept albums including Curtains,  The Will to Death, To Record Only Water For 10 Days and 2009's The Empyrean. Getting synthesizers, piano and a host of other instruments involved you pretty much won't find on a Chili Peppers album.
I can't say I really blame Frusciante, the pressure and creative limits imposed by a Record Label to produce songs in line with their vision of what your band should sound like doesn't always jive with what you had in mind. With that respect, John is now free to be performer, mixer, engineer producer and whatever else he wants to be to produce HIS music. Not music bound by a collective group or subject to approval by anyone other than himself. I think everyone desires that kind of control of their art and for that I do applaud him.
However, being that the Chili Peppers are pretty much my favorite group and me having so much admiration for Frusciante in and outside of that group, it's kind of tough to take knowing I won't be hearing John on the next Peppers albums. Yes I'll get to listen to John in his solo projects, maybe he teams up with Flea for a couple of things as he has done in previous projects but it's not the Chili Peppers. Just as Frusciante came back to the band for 1999's Californication and made it whole once again, his departure again leaves a gaping hole at guitar. Luckily it seems that Frusciante friend, collaborator and Peppers touring backup guitarist Josh Klinghoffer is ready to step in a fill some rather large shoes. Only time will tell how things turn out but it doesn't seem like Frusciante will make a miraculous return to the band anytime soon.
From Frusciante's Myspace:
Clarification
When I quit the band, over a year ago, we were on an indefinite hiatus. There was no drama or anger involved, and the other guys were very understanding. They are supportive of my doing whatever makes me happy and that goes both ways.
To put it simply, my musical interests have led me in a different direction. Upon rejoining, and throughout my time in the band, I was very excited about exploring the musical possibilities inherent in a rock band, and doing so with those people in particular. A couple of years ago, I began to feel that same excitement again, but this time it was about making a different kind of music, alone, and being my own engineer.
I really love the band and what we did. I understand and value that my work with them means a lot to many people, but I have to follow my interests. For me, art has never been something done out of a sense of duty. It is something I do because it is really fun, exciting, and interesting. Over the last 12 years, I have changed, as a person and artist, to such a degree that to do further work along the lines I did with the band would be to go against my own nature. There was no choice involved in this decision. I simply have to be what I am, and have to do what I must do.
Sending love and gratitude to you all.
🙂
I can't tell you how pissed I am that he used an emoticon.