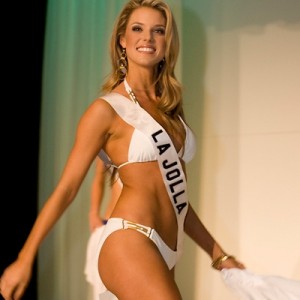 By: Billy BeerSlugger

Former Miss California Pageant winner Carrie Prejean is back in the news because of a sextape (although more like a masturbation tape) that has surfaced.  Prejean originally came into national focus after she was criticized in the media for her answer in the Miss USA pageant which elaborated her views on gay marriage.  As more information came out about her and the more interviews done because of the answer on gay marriage she painted herself as a very god-loving person as citing that the body was a holy temple and other Christian type views on the world.  She was labeled as a hypocrite by the media after photos came out of her posing semi nude and or topless and then being under fire to surrender her Miss California Crown in which Donald Trump (who owns the pageant) gave her a pass.  Later she was stripped of her crown for breach of contract for reasons I didn't care to look up which resulted in Prejean suing the Pageant for wrongful termination.  That suit was settled last week sometime as rumors of a sextape swirled and eventually was shown to Prejean and her mother (classic).
So now Carrie Prejean is back on the talk show circuit, Larry King Live, the Today Show, The View and talking about her book while all these shows are booking her for is the sextape questions which will boost ratings, not the book.  She refuses to answer questions about the sextape under the premise that the details of the settlement of her suit she is not permitted to and yada yada fuckin yada….
Now maybe this is an elaborate plan to boost her public persona and sell her book or maybe the former boyfriend she sent the video of her masturbating needed the money, though it seems the most money to be made from the tape would have been during her 15 minutes of fame. Anyway, she kind of won't go away and it's annoying me.
It's not particularly annoying me that she has a sextape (because I definitely want to see it) but that all the talk shows have to have her on to talk about this shit.  All the liberal media has to parade her around as some gay hating, god loving whore when the girl is pretty much everything that most girls her age are, a little opinionated and a lot naive.  How many teenage girls have sent sext messages to their boyfriends.  How many groups of teenage girlfriends have put up a video on Youtube of themselves dancing very scantily clad to fast paced music or filmed the lot of them in the shower with bathing suits on (Ask me how I know these exist)? Point being that this kind of stuff happens quite regularly. I don't know about filming masturbation, that's a little overboard but I've received some pretty graphic stuff from girlfriends past that I wish I had saved.
The thing that most aggravates me is that she is a lightening pole for the liberal media to take shots at.  Trying to discredit her in any way possible and tie it into the Republican Party or Conservatives.  Not exactly a fair assumption and really she shouldn't be news at all.  Prejean is right in that she says she is being attacked by the media for being against gay marriage and a devout Christian in the spotlight but really why does anyone care what this girl has to say?  Beauty Queens aren't exactly known for their brains are they? Please Click here for more on that subject.
So why?  Why is this girl in the news?  A sextape is a sextape but it doesn't necessitate talk show interviews.  Shame on whomever booked her and shame on her for using the publicity of the sextape  to sell her book even if by happenstance. Since you know she wasn't going to get booked without the sextape scandal as her 15 minutes was up.   A person using a sextape to sell books and talk shows using a sextape to up ratings, I guess everyone wins (except the public).
Now I realize that the "Right" or "Conservatives" sometimes paint newsworthy people into the Democrat/Liberal unfairly but you really didn't see Kim Kardashian be a lightening rod for criticism from the right even though she supported Obama for so long and has a sextape and naked pictures. It's like Prejean is the newly appointed spokeswoman for conservatives as seen by liberals and really that's far from the truth as Obama is doing a good job so far.
Maybe one of the biggest reasons why I wrote this is smug ass pseudo-intellectual talk/news host Kieth Olbermann seems to be fixated on her whenever she pops up in the news.  You may know I have a deep and reasoned dislike of Olbermann but I think the guy took it a little too far when he gave Prejean the two-fingered salute at the end of his show, signifying the two fingers a woman may choose to masturbate with (to view it go to the end of this video). It's the kind of over the top gesture that someone on the other side of the political spectrum would get fired for but I've heard little to no backlash.
Olbermann, like many of his so called reporter counterparts seem to forget that this girl is a beauty queen not a Rhodes Scholar.  The weight of what she says or her opinions really don't need to be a concern of national media , shes famous for being pretty and being personally (not an activist) against gay marriage.  There really is more pressing things going on in the world than the trials and tribulations of Carrie Prejean and her fake breasts and sextape.
However, as I said earlier, I do want to see the sextape.