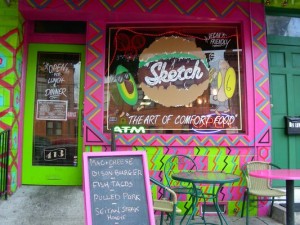 By: Billy BeerSlugger
Sketch gets a lot of hipster clientele and I don't think there's anything wrong with that. Hipsters have to eat too and some of them are so emaciated that I think they should probably get two Sketch burgers when they go in there. There's hand drawn "Sketch"es by customers postered all over the wall and is where it gets it's name (I'm taking a shot in the dark on this one).
Sketch is a Burger joint at it's heart but does some things that a traditional burger place might not get into: Kobe beef, eggs, horseradish cheddar cheese, salsa verde. It's right on East Girard st between Earl and Columbia though the sign doesn't really jump out at you while driving down Girard. The fries are good, the milshakes are good and certainly the burgers are good. My roll might have been a little greasy but I did get it to go so a lot of the grease may have seeped in while contained in the wrapper. That's about the only complaint I have about the place, maybe it's a tad expensive though. But if you want an inexpensive burger there's a McDonalds down the street.
Overall it's some of the best food I've had in the Fishtown section of the city. Next up to try when I go there, Dr. Pepper Pulled Pork!