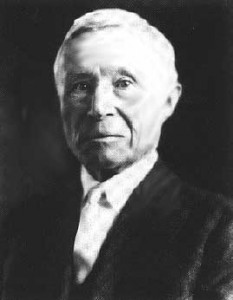 By: Billy BeerSlugger
For our next entry into The Fathers of American Beer saga we profile Adolph Coors, the patriarch of Coors Brewing Co.  For the first time in our series we profile a brewer who is not based in the Western part of the United States, Golden Colorado to be more specific.
It's not common knowledge that Adolph Coors was actually born Adolph Kuhrs, the name changed to Coors after he immigrated from Germany to New York. Yes, just like every other Father of American Beer, Coors was born in Germany. Breaking the ranks from his peers Schlitz, Busch and Pabst, Coors did not marry into a family and eventually take over the brewery. He and another businessman bought a Tannery (a place where the tanning process is applied to hide to make it leather) in1873 and made it into his Golden Brewery.  In 1880 Coors acquired full control of the brewery and the rest is essentially history.
The Golden Brewery was converted to make Malted Milk during Prohibition as well as a de-alcoholized "near beer" called Mannah.  It was Prohibition that may have drove him to his death as he committed suicide in June 1929 by jumping out the a window in his room at the luxurious Cavalier Hotel in Virginia Beach, Virginia.  Four years later Prohibition was repealed.
The Coors lineage had been known as workaholics and it is a testament to how the brewery grew over the years.  The Golden Colorado brewery is the largest on a single site and Coors Brewing Company (after it's merger with Molson) now makes up the world's 5th largest brewing company. According to the Coors website, Coors became the first American brewer to use an all-aluminum two-piece beverage can in 1959. Coors currently operates the largest aluminum can producing plant in the world in Golden Colorado, known as the Rocky Mountain Metal Container.