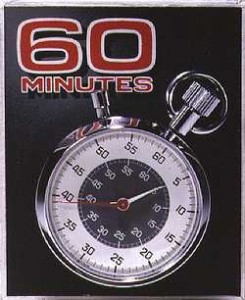 By: Billy BeerSlugger
I didn't actually see this episode of the investigative news/magazine 60 Minutes since the Phillies were on but from what I and other people on the internet can tell you, their editor needs to do a little better in the fact checking department.
Their segment was on how illegal downloading was costing Hollywood 6 billion a year, which may or may not be that far off, however, the reasoning they give to support this claim is pretty much fabrication or conjecture which ever way you want to look at it.
First there is the claim that Organized Crime (the Mafia?) is making most of it's money off of counterfeit movies.  Now I'm not going to dispute the fact that there are bootlegged movies out there but 60 Minutes is having me believe that Tony Soprano is behind all of this and not some dude with a DVD burner in his basement looking for some extra cash. I mean I could at least warm up to the idea if 60 Minutes gave me any proof. There was some talk about gangs of pirates using mafia style pickups but the focus quickly turned to illegal downloading.
Second, there is the segments claims by director Steven Soderbergh that piracy is costing the movie industry 6 billion a year.  Neglected is the fact that Hollywood continues to make more and more money each year. Another Soderbergh assertion is that fewer movies are being made and will continue to be made because of piracy.  Another assertion debunked given the statistics on movies 567 movies made in 2004 and 1038 in 2008, almost doubling inside of 4 years and still increasing.
I'll give you that if movie tickets continue to go up every year then revenues should go up every year but you can't really say that in this kind of economy.  Bottom line Hollywood made more money last year than the year before and the year before that.
The segment also delved into the role Bit torrent plays into illegal downloading and then cutting to a guy saying, "what we have done for 15 years is not put in any speed bumps, any technological blocks in the way of individuals so that the conclusion that the younger generation in particular draws is that if it's so easy it cant be wrong."
Well yes it is easy, people can choose to share anything they want on Bit torrent and if they choose to share or download things illegally it is on the government and the copyright holders to find a solution that does not intrude on the openness of the internet. The blocks and speed bumps the guy interviewed in 60 minutes is advocating sound a lot like bandwidth throttling and packet sniffing, things which go against the principles of net neutrality.
While there are millions of Bittorrent users out there, I only know about 3 people who could use Bittorrent effectively enough to download music, movies and the like. So if it's so easy and so popular, why don't I know more people that do it? Why can they use iPhones and computers but have no idea how to use Bittorrent even after I wrote an article on it?
I digress, the real focus here is on 60 Minutes and it's one sided affair with File Sharing and the Motion Picture Industry.  There were a few facts thrown in about how the movie Wolverine was leaked and still did extremely well at the box office but overall there was not a peep from anyone on the opposing side of issue of illegal downloading.  Further, the "so called facts" that they gave didn't coincide with any of the generally accepted statistics reported all over the internet.
I wonder how much money CBS makes off of Movie Advertisements a year?  Could this be yet another sacrifice of journalism for advertising dollars?  The whole thing to me seemed like a propaganda piece for the MPAA, chock full of bogus facts and subjective estimations.
Maybe more people would go to see movies if 90% of them were not lacking in substance, didn't recycle old stories, didn't remake old movies or have plots which are so horribly obvious as to the outcome that all you really needed to see was the previews.
What about the film-makers who are using file sharing technology to get their movies seen by the masses or the ones exploring new business models like some in the music business are. Let's not talk to the copyright professionals or consumer advocates who render baseless most of the MPAA's claims 60 Minutes. That wouldn't be a balanced approach to the issue, would it?
P.S: Maybe if Steven Soderbergh didn't put out pieces of crap like The Girlfriend Experience people wouldn't walk out of the movie theater requesting their money back like me.