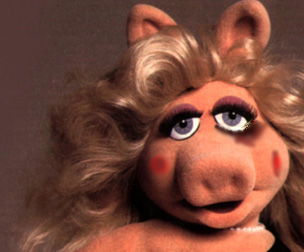 Police were called to the Los Angeles home of Kermit the Frog early Friday morning to investigate a domestic dispute between his on and off again girlfriend Miss Piggy.  Kermit the Frog allegedly struck Miss Piggy several times in the face leaving several bruises and a black eye.
To the right is a police photo obtained by TMZ.com early this afternoon.
Friends of Kermit have been increasingly alarmed at his behavior lately.  An unnamed source saying Kermit has recently been abusing cocaine and alcohol on a regular basis leading to a very irascible temperament.
Sources say the argument started innocently enough over the toilet seat being up and Kermit's socks lying beside the hamper and not in it.  It is believed that this along with Miss Piggy's incessant nagging and annoying voice (as well as the substance abuse) led to Kermit acting out in violence.
When Muppet character Beaker was asked to comment on the situation he was quoted to say, "Meep Meep Meep Meep!"