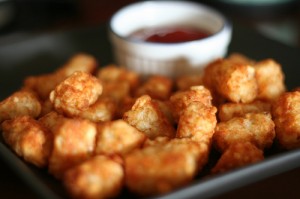 By: Billy BeerSlugger
Tater Tot's are so in vogue right now it makes me want to boycott them, however, they're just too fucking delicious. This simple food is served to you in a restaurant/bar essentially the same way they come out of your oven. There's really no difference except the price and maybe some chives or scallions you'll get when eating out somewhere that serves them.
So where did the popularity of the Tater Tot come from and why in recent years have I seen a steady increase in places offering them, especially the hipster places.
Notably, I worked at the Barclay Prime circa 2006 and noticed they were serving them there.  One of the more fancy and best steakhouses in the city and they're serving the same thing that run down diners serve to their patrons (granted at a bigger markup).  Other places I've seen them on the menu is the Urban Saloon and North Bowl, so much so that when my friends and I go either place it's always brought up how multiple orders of "tot's" were going to be consumed that night.  My comrade has told me that they are available at Sonic Fast Food Restaurants but I've never actually seen one of those. My guess is that Sonic is a fictional corporation akin to one of those companies in the movie Boiler Room.
Where did this phenomenon come from?  Was it the cult classic Napoleon Dynamite that brought the tot back into mainstream America?  Has the tot in some ways always been part of large part of American Culinary Culture?  Americans consume approximately 70 Millions pounds of tot's per year to the French Fries 2 million tons so the tot does have some ground to make up.  If the tot continues to be adopted as the potato product of choice for the hipster set and the trendy establishments they frequent, you may well see the tot challenge the fry for it's dominance. Will we see McDonalds, Burger King and other fast food places start to carry the tot? Only time will tell, in the mean time grab yourself a big bag of tot's at the supermarket, a pack of your favorite shredded cheese and get totted up!