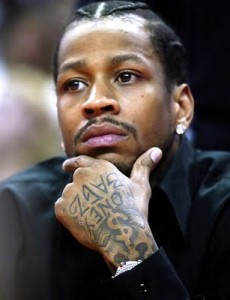 Sports with Bob McFlurry
So Allen Iverson may retire, he'll probably come back later this year to play for a contender but he's not playing professional basketball right now after a short stint with Memphis.  It's somewhat sad to see a player I pretty much grew up with on the fence about his athletic future but in a lot of ways the retirement of most of my sports hero's from my youth prepared me for this time.  To tell you the truth I was way more taken aback by the trade of Chuck Barkley to the Suns for Jeff Hornacek and a couple other no names. I cried when Mike Schmidt announced his retirement. I was bitter that Randall Cunningham was run out of town in favor of Rodney Peete only to see Randall lead the NFL's most prolific offense ever (to that point) 3 years later in Minnesota. I wasn't particularly shocked that Iverson was traded away a couple years back because just like my last relationship, I could see the signs that things weren't going to work themselves out.
I love Allen Iverson. He was perfect for a city that prides itself on the underdog status and made millions believe he could bring a Championship to Philadelphia for the first time since Dr.J was running up and down the Spectrum floorboards.  He could drop 30+ on any team any night of the week and did most of his time in Philly. He played through injuries and he gave you everything he had any time he stepped on the court in a game (not talkin' bout practice).  I can still feel the goosebumps I got from going to the playoff game in 2001 against the Raptors and Iverson and Vince Carter both dropped 50+. It is a top two sporting event that I have ever been to.
For the better part of his career he led the league in minutes, shots and points, later throwing in steals to the mix.  But for every 50 point game, for every feat of athleticism, amazing shot or electric, hustle play he never won a championship.  He's won an MVP, been to All Star games, been rookie of the year but he could never win a title with him as the go to guy.  It's nothing to be ashamed of though, there's lots of Hall of Famer's who never got a ring. The thing is, Iverson can still get a ring albeit not with him starting somewhere.  If he doesn't accept the fact that he's going to have to play off the bench somewhere, hopefully for a contender then he probably should retire. At 34 he can't be "The Answer" for a franchise but he can be "The Answer" in short bursts coming off the bench and spot starting for a team that is jockeying for a Championship run.
Though for everything that made Iverson great in his career, pride, tenacity and a never say die attitude, these are things that may be holding him back from being a successful 6th man in the NBA.  He still feels like he can be the man and help a team win the way he's been "accustomed" to his entire career save last season.  Problem is, no one else thinks the same way, at least not in a starting role.
So for him being "The Answer" he does leave us with a lot of questions. Will he come back, will he retire?  What would have happened if Iverson had been paired with a legit big man? There was one thing he was the answer to though, ticket sales for the Sixers and most arenas when he was on the road.  Everyone wanted to see the most electrifying player in the NBA in the early to mid 2000's.  Shame we're here in 2009 and one of the greatest talents in league history hasn't gotten any closer to a Championship than those halcyon days of 2001.  Only time will answer the question if he will ever get back there and we'll all just have to wait and see.