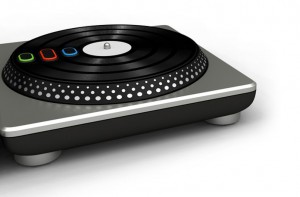 By: Robby RipChord

I'm not really mad at Eminem or Jay-Z for selling out to do DJ Hero but there must have been some serious postulating on both sides before they committed.  Something like this, as a hardcore rapper, can seriously hurt your street credibility in terms of fan base and the ability to sell records in the future.  Maybe they are both worried about record sales for the industry in general and are trying to make as much money as possible right now, who knows.
There's something different about DJ Hero as opposed to most of the other "Hero" games in that Jay-Z and Eminem are still in a position to sell a major amount of records any time they drop an album.  They could debut at number one just from name recognition alone for the most part and one or two singles on the radio. With the popularity of Guitar Hero and Rock Band it's an easy progression to try and make money off of hip-hop too and what a better instrument than the turntable.  But while Guitar Hero and Rock Band are highlighted by back in the day bands like The Beatles, Aerosmith, Metallica and others who really haven't had a viable hit in years (or decades), the makers of the game chose to go with current rap/hip-hop stars instead of going with back in the day talent.  They didn't even get DJ's to front their product they got rappers instead of DJ legends.  Why not pick out The Beastie Boys, Run DMC, Wu Tang, Public Enemy, Rakim, Salt N Peppa, Nas or one of 50 other artists who deserve to be kind of honored (and compensated) for their role in Rap and Hip-Hop?  We're these people approached and told the Video Game Company to fuck off, "We're not going on a video game"?
Do Jay-Z and Eminem really need the money that bad? Jay-Z is always rapping about how much money he has and he's a mogul but how do you justify all this to your "street" fanbase and becoming overly commercial?  Eminem I don't really see with the same problem because I'm not sure anyone ever took him for a Gangsta but doesn't this cheapen his work as an "Artist"? I'm all for people making money but at what cost to your reputation?