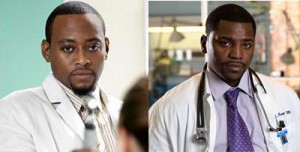 It has been a long running conspiracy of mine that Omar Epps & Mekhi Phifer are in fact actually the same person or Epps was cloned sometime back in 1995 and the clone was given the name Mekhi Phifer.
Here are the facts as I see them:
Both played doctors on E.R at one point.
They both currently work as doctors on the shows E.R and House respectively.
They were both born in New York City
They were both raised by single mothers.
Both starred in movies with rap artists (Tupac and Epps in Juice & Phifer and Eminem in 8 Mile)
They bare a striking resemblance to one another. Same haircut, both have a goatee (though Epps' is longer).
Both played star high school/college athletes in movies (Pfifer in O, Brian's Song and Epps in Higher Learning, The Program etc).
Both are around the age of 35 (Epps being 35 and Pfifer being 34).
I think the evidence pretty much speaks for itself.  It's overwhelming.  I know I cannot prove this right now but I am putting a plan in place to get hair samples off of both of them to do DNA analysis on.
Further i believe Pittsburgh Steelers coach Mike Tomlin is somehow involved in this conspiracy and could be a second clone.
Updates to come….