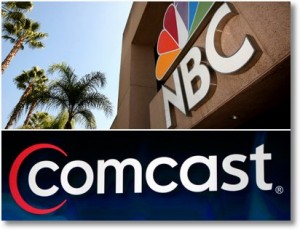 By: Billy Beerslugger

With Comcast Corp's recent acquisition of NBC are they in a real position to challenge ABC owned ESPN for dominance or at least a much larger share in the Sports Viewership?  Besides my stance against the Country's largest Cable Provider now owning a network television station I am interested to see and rooting for Comcast to take on ESPN.
If you really think about it, Comcast Sportsnet is available widely all over the country. Areas of California including San Francisco and Oakland, Chicago, New England, New York, Oregon / Washington State area, Houston, Denver, Atlanta and parts of South Eastern US, Washington D.C. area and of course Philadelphia all have access to Comcast Sportsnet or their affiliates that deliver region specific sports news to them.
How much cooperation will there be between NBC and Comcast in terms of Sports coverage going forward or will they seemingly merge coverage just like ABC / ESPN did?  Could big Phillies Games soon be played by NBC 10 in Philadelphia and the pattern repeating in other parts of the country and their NBC affiliate? I guess only time will tell.
I am interested to see someone directly take on the ESPN machine though.  First order of business is to steal away the marketing team that does ESPN's commercials which are usually absolutely hilarious.  If you can make me laugh I'll stay on your channel longer.