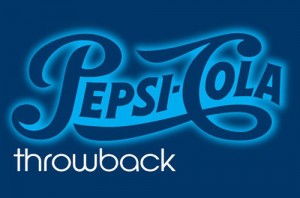 By: Billy BeerSlugger
Ok so apparently Pepsi is rolling out a version called Throwback, which will replace High Fructose Corn Syrup with actual real sugar.  Both Pepsi and Pepsi owned Mountain Dew have introduced a throwback version.
While I have not yet tried either of these throwback versions I can already surmise that I will like it 10 to 15 times better than than their counterparts.
Going back to one of my earlier posts when i ripped into artificial sweeteners I guess I failed to realize that Coke, Pepsi and probably 99 percent of other main stream soda pop's are made with High Fructose Corn Syrup.  While High Fructose Corn Syrup is obviously not sugar as I had seemed to convey in the article, I going to stick with my guns and tell you that High Fructose Corn Syrup is still better for you than these other artificial sweeteners in diet soda.  Yes I am a doctor and a scientist so I know about these things.
I have heard it's kind of hard to find these Throwback sodas, i don't think they are available in your works soda machine.  A friend tells me that Philadelphia Based Mitchell & Ness (of throwback sports jersey fame) does carry the designer soda in the store to go along with the Throwback motif.
One cool thing I have seen is that Snapple Iced Teas and Juices are moving to all sugar.  They are ditching the high Fructose Corn Syrup entirely.  That's very different from what Pepsi Co. is offering as a limited release and sticking with the HFCS. I think you really have to commend Snapple on what they're doing.
I have read that switching to real sugar as opposed to using High Fructose can be slightly more costly to produce and therefore a higher cost to the consumer.  While most things are going up these days i think that raising the price of soda and making it healthier (i.e. real sugar) is a win-win for the consumer.  People drink less soda and the soda they do drink is better for them.  Though in contrast, less soda sold is bad for Coke and Pepsi Co and jobs may be lost.  As always action and reaction.