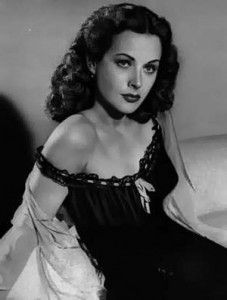 Hedy Lamarr is a veteran of such films as Tortilla Flat, Algiers, Boom Town, White Cargo, Ziegfeld Girl and Cecil B. DeMille's Samson and Delilah. She has a star on Hollywood's Walk of fame. She got naked in the 1933 film "Ecstasy" which I'd love to see or at least fast forward through until she got naked.
While Hedy may be most famous for her acting career the was also very much a scientist.  In 1941 she and composer George Antheil submitted the idea of a Secret Communication System for patent which was awarded in 1942. This early version of frequency hopping used a piano roll to change between 88 frequencies and was intended to make radio-guided torpedoes harder for enemies to detect or jam.
Lamarr's and Antheil's frequency-hopping idea serves as a basis for modern spread-spectrum communication technology, such as COFDM used in WiFi network connections and CDMA used in some cordless and wireless telephones. (Wikipedia)
How can you not completely fall in love with this chick.  Hot as shit and does experiments, basically invents WIFI.  Plus she had 6 husbands which is right up my alley considering how great at relationships I am.
I'm raising my Victory Prima Pilsner in appreciation of this brainy broad.