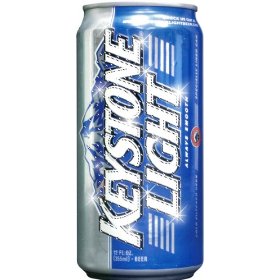 By: Billy BeerSlugger
It's topical and it's a question everyone has pondered from time to time.  There's a lot of theories out there, a lot of conjecture about what is and what is not.  What follows is an in depth and logical look at the theories and rumors that your friends and colleagues have been debating since the dawn of time, Is Keystone Light the exact same thing as Coors Light.
The Facts:
Coors Light and Keystone Light are brewed by the same company, Coors Brewing Company.
Both beers have an Alcohol by Volume of 4.2%.
Both beers share a similar can if not the exact same can dimensions.
Coors Light is generally more expensive than Keystone Light.
Beer Can labels are inked directly onto the can before it is filled, not after.
The Theories:
Keystone Light is just Coors Light cans which were dented and then re-branded as the cheaper Keystone Light.
Keystone Light and Coors Light are the exact same beer just marketed in two different brands.
BeerSlugger Analysis:
One thing I know personally is that Keystone Light does not taste exactly like Coors Light.  It tastes similar but not the same. The Coors Light can now has the "Mountains Turn Blue" aspect to it which I'm going to venture to guess would need to be removed from the Coors Light can if it was re-branded to become Keystone Light.
From a financial aspect, it costs money to re-ink a can thus pretty much debunking the theory of Keystone Light being dented Coors Light cans.  It does not make financial sense to spend the money and manpower to re-ink beers only to sell them at a lower price (Keystone Light being cheaper than Coors Light).
I doesn't make sense to brew the same beer, give it two different brands and sell them for two different prices.  That's two different can inking departments, two different beer box orders with two distinctly different graphics on them.  If there's one thing I know about printing, the more  you order of something, the cheaper it is.
When it comes down to it, breweries are in business to make money.  So why would Coors spend more money to produce two different brands of the same beer when they could spend less money and have one brand, the more expensive one I might add? Why would Coors re-ink dented Coors Light cans at a cost to the brewery only to sell them at a lower price? Why not just sell the dented Coors Light cans at a lower price and skip the costly extra step?
There's no doubt that Keystone Light is in the same family as Coors Light but they are hardly identical twins.  I think from the logistics and costs of running two brand names of the same beer or re-inking dented beer cans to sell at a lower price I have pretty much laid these rumors to rest. It's not like Coors is having a hard time selling Coors Light either even at it's higher price tag.  Why mess with success and profit by taking extra steps to make less money?
Sorry Key Light conspiracy theorists, it just doesn't make sense business-wise and I'm fairly certain Coors has stayed in business since 1873 by making the kinds of decisions which make more money, not less.